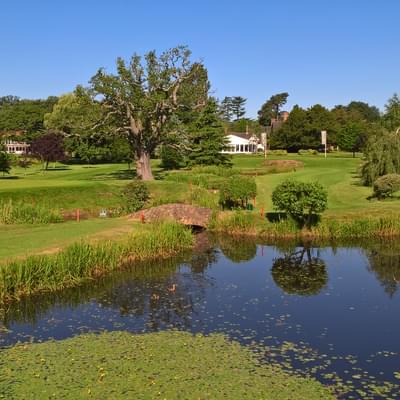 Best rates when you book direct
What is a Par 3 Golf Course?
Golf is both a relaxing and exciting sport, and no course better epitomises this than a 3 par golf course. However, if you are a beginner golfer, you may not yet be familiar with the rather complex terminology of this sport.
Nailcote Hall boasts the best par 3 golf course in the country, so we have put together this guide to par 3 golf courses. Keep reading to find out what this course is and why it is so highly prized amongst beginners and avid golfers alike.
What is a par in golf?
In golf, the par is the number of strokes that a scratch golfer should need to complete a hole, round or tournament. In other words, a par is the predetermined number of times a good player should need to hit the ball to get it into a hole or all of the holes.
A par always includes two putts. Almost all golf holes are par 3, 4 or 5, with some reaching an ultra-long 6 par.
What is a 3 par golf course?
A 3 par golf course is one in which players should take three shots to get the ball in the hole (to make par) for each hole. Par 3 holes are the shortest and most exciting, as you can easily reach the green from the tee box. Seeing as par 3 holes are so stimulating, golf courses that consist of only par 3 holes are becoming increasingly popular. Our award-winning golf course is one of these exciting par 3 courses.
How many par 3 holes are on a golf course?
The number of pars on a golf course differs greatly. At Nailcote Hall, we have a nine-hole golf course, all of which are 3 par. A classic par 72 course may have four 3 par's, while a par 70 course may have only two. In other words, this number is not set, and it will depend completely on the course layout.
Is a par 3 golf course good for beginners?
As par 3 holes are shorter than others, they are perfect for beginners. New players can take advantage of the reduced distance, while more experienced golfers can enjoy the interesting hazards while fine-tuning their short game.
Tip: If you are a beginner, here are some tips for a perfect day on the golf course.
Benefits of playing par 3 courses
Par 3 courses provide the following benefits for golfers:
You will have plenty of opportunities to practice your short game

Par 3 courses take less time to play

They have shorter walking distances

The whole family can enjoy golfing on a par 3 golf course

They are less intimidating for beginners

You only need three or four golf clubs, preferably a putter, a wedge and a pair of mid-irons
Ready for a day on the green?
Now that you know what a par 3 golf course is, are you ready for a round of golf on one? You can join us for an afternoon of golf or come for a golf weekend break. Whatever you are looking for from your golf experience, we will happily accommodate you.
Contact us today to find out more.
Best rates when you book direct