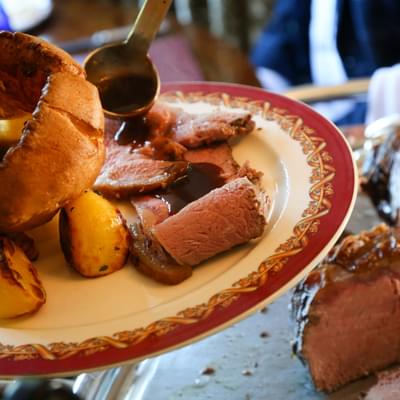 Best rates when you book direct
Sunday Lunch At Nailcote Hall
The Sunday lunch is a popular British ritual that dates back to the late 15th century. This became a tradition in the palace during Henry VII's rule and became common amongst villagers during the 19th century.
Today, a Sunday lunch is a perfect way to spend some quality time together with your loved ones. Typically, Sunday lunch was served at about 3 pm, although today, many take their Sunday roast at dinner time.

At Nailcote Hall, we offer a special lunch menu every Sunday. You'll find us in the beautiful countryside of Warwickshire, we're a short distance away from Birmingham, Solihull and Coventry.
Prices & Times
This is a representative sample menu and is subject to seasonal changes.
Available from 12.00pm to 2.30pm and 6.30pm to 9pm Sundays.
2 courses - £36.00
3 courses - £40.00


Starters
Fan of Canteloupe Melon
Fresh Berries and Homechurned Sorbet
Cured Parma Ham
Feta Cheese and Beetroot Puree
Duck Liver Pate
Toasted Sweet Brioche and Spiced Cranberry Chutney
Salmon & Spring Onion Fishcake
Wilted Spinach and Chive Beurre Blanc
Homemade Soup of the Day
Mains
Roasted Sirloin of Scottish Beef
Roast Potatoes, Vegetables, Yorkshire Pudding and Pan Gravy
Roast Loin of Pork
Roast Potatoes, Vegetables, Yorkshire Pudding, Apple Puree & Thyme Jus
Pan-Fried Breast of Chicken
Braised Cabbage, Mushroom Sauce
Supreme of Organic Salmon
Pearl Barley, Baby Spinach and Sauce Vierge
Beetroot Ravioli
Sage Brown Butter and Baby Beetroot
Desserts
Warm Coconut Rice Pudding
Banana Ice Cream
Rich Chocolate Brownie
White Chocolate Anglaise
Vanilla Crème Brûlée
Strawberry Ice Cream
Fresh Fruit Salad
Home Churned Pink Champagne Sorbet
Selection of Fine British Cheeses (£2.95 Supplement)
Walnut Bread, Grapes & Chutney
Dietary Requirements & Allergies
Please do ask a member of staff if you have any special dietary requirements or allergies and we will do our very best to accommodate your requirements.
Please note that our dishes may contain one or more of the following allergens: Cereal, Peanuts, Nuts, Fish, Shellfish, Sesame seeds, Eggs, Milk, Soya, Celery and Celeriac, Mustard, Sulphuric Dioxide and Sulphites.
Please ask a member of staff for any assistance.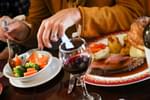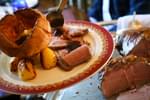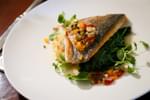 Best rates when you book direct