Conference & Corporate Meeting Packages and Prices
Nailcote Hall is surrounded by stunning countryside while being within easy reach of Birmingham International train station and the M42, M6 and M40; This makes our conference facilities easily accessible to delegates from areas such as Birmingham, Coventry, Warwickshire and Solihull making it a fantastic location for your conference or meeting.
Whether you are interested in a package to serve your one-day meeting or a conference that spans several days, we have the experience and facilities to accommodate you.
If you know which package you would like to invest in, or would like some expert advice on which package could best serve your needs; get in touch via phone (02476 466 174) or the contact form below and we will be more than happy to assist.
Hotel meeting room package
From small meetings to business conferences and whole company announcements, our rooms can serve anything from ten to three hundred people.
Perhaps you are looking for something simple, with natural sunlight and access to fresh air and rolling countryside, or everything from hot beverages and lunch to high-speed Wi-Fi and large projection screen; whatever you need, we can provide.
Additional facilities
Nailcote Hall offers so much more than high-quality conference packages. Even if your meeting or conference only lasts a day, why not extend your time with us and make use of other facilities:
Types of hotel conference packages we provide
We strive to be as accommodating as possible, which is why we offer a range of packages. If you can't find something that suits your requirements, get in touch, and we will do everything we can to find the perfect solution.
We offer:
Full-day meeting package
Half-day meeting package
Multi-day meeting package
Meetings and events packages
Below is a list of our conference packages and prices. Call our team for further information or an exact quote.
Winter Meeting Offers
December 2023 to February 2024
Day Delegate from £30.00pp
24 Hour rate from £145.00pp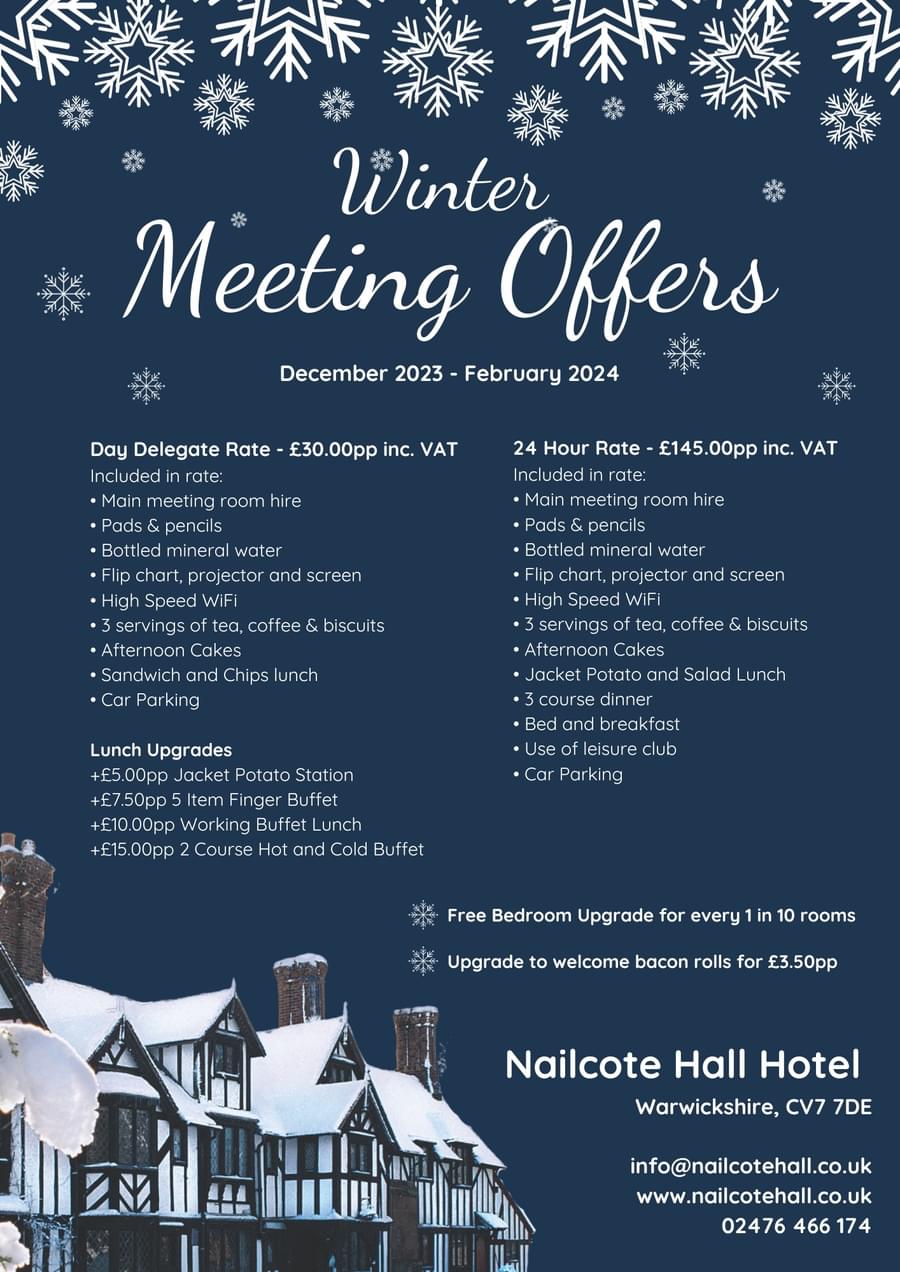 Please find below a list of our average conference packages and prices, call our team for further information.
Day Delegate rate - from £37.50 inc VAT

Included in rate:

Main meeting room hire
Pads & pencils
Bottled mineral water
Flip chart, projector and screen
High Speed WiFi
3 servings of tea, coffee & biscuits
Afternoon Cakes
Sandwich and Chips lunch
Car Parking
Lunch Upgrades
+£5.00pp Jacket Potato Station
+£7.50pp 5 Item Finger Buffet
+£10.00pp Working Buffet Lunch
+£15.00pp 2 Course Hot and Cold Buffet


24 hour delegate rate - from £160.00 inc VAT
Included in rate:
Main meeting room hire
Pads & pencils
Bottled mineral water
Flip chart, projector and screen
High Speed WiFi
3 servings of tea, coffee & biscuits
2 course hot & cold buffet lunch
3 course dinner
Bed & Breakfast
Use of Leisure Facilities
Car Parking
Day Room Hire
Dudley, Kenilworth, Clubhouse - £250 to £450
Terrace - £300
Lant- from £750
Wellingtonia, Yew - £175
Library, Boardroom - £150
The Marquee - £750 - £2,000
AV Equipment
LCD Projector and screen - £50 - £75
Flip Chart - £20
Lectern - £15
More AV equipment available on request
For prices and availability, or expert advice, call our conference and events team today on 02476 466 174 opt.(2) or email info@nailcotehall.co.uk
Frequently asked questions about our conference packages
What is a complete meeting package?
A complete meeting package involves everything from pens, pencils and pads, through to a high-quality projector screen, lectern, food and drinks. Some of our packages even include access to our leisure facilities.
Can I book a conference or meeting package online?
We want to ensure that your package fully accommodates your meeting or conference requirements, so while we try to offer as much information as possible, we want to have a conversation with you about how we can make your experience with us the best possible.
You are more than welcome to email us with the details of what you are looking for, and we will respond as swiftly as we can.
What types of attractions are local?
Thanks to our fantastic location, we are within easy reach of a wide variety of activities that suit every taste. Just a few of the options available include:
Packwood House
National motorcycle museum
Drayton Manor Park and zoo
Birmingham Hippodrome theatre
Royal Priors shopping centre
Cotswolds
Team Sport Go-Karting
Resorts World
We have a full list of local attractions here.
How much are your meeting or conference packages?
Our meeting and conference packages start from £35 (including VAT), please get in touch with a member of our team for a tailored quote.
Best rates when you book direct