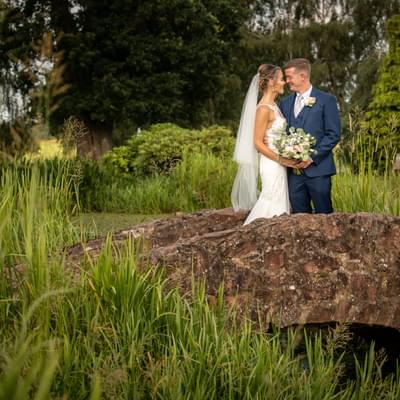 The Perfect Warwickshire Wedding Venue
Congratulations on your engagement, and a warm welcome to Nailcote Hall Hotel, nestled in an enchanting setting within the beautiful Warwickshire countryside.
Embrace our historic, listed hotel, where cherished memories come to life. As a licensed venue for civil ceremonies, we stand as the perfect canvas for creating an unforgettable wedding journey. From the ceremonious vows to the delightful wedding breakfast, and through the lively evening soirée, all elements harmoniously unfold under our hospitable roof.
Nestled within 13 acres of captivating Warwickshire landscape, Nailcote Hall beckons with its panoramic vistas, showcasing our award-winning golf course in all its glory. The expansive canvas of nature provides an idyllic stage for your special day, a picturesque backdrop that paints a story of love – a story worth capturing in timeless photographs, regardless of the season.
Allow us to be the architects of your dream wedding, where every detail finds its place in the symphony of your love story.
Wedding venue hire for all party sizes
Dedicated to transforming every wedding dream into reality, our tireless efforts ensure your vision is flawlessly executed. Whether it's an extravagant gala with a guest list of over 200, or a more intimate affair surrounded by cherished friends and family, our array of rooms and meticulously crafted packages cater to every couple's unique dream.
Discover the charm of our Pavilion Suite, perfect for up to 50 day guests, emanating a sense of intimacy and personal connection.
Should you desire a grander setting, our Bistro and Lant Suite await, ready to embrace larger gatherings of up to 140 guests. For those seeking a larger space, our glass marquee accommodates wedding parties of up to 300. Immerse yourself in its ethereal ambiance as floor-to-ceiling windows frame the splendid vistas of our gardens, ensuring a truly magical experience.
Each of our wedding suites boasts its own distinctiveness, promising a memorable touch that resonates with your love story. To delve deeper into our country house hotel wedding venue, don't hesitate to reach out to our team.

A Perfect Setting
Nailcote Hall offers some wonderful backdrops and beauty spots on your Wedding day, perfect for your photographer to capture those special moments.
As you enter our driveway you are greeted by the classic Jacobean country house and front gardens. This entrance provides the chance for you to arrive in style, maybe a horse drawn carriage or a classic car.
Our golf course is set amongst the Warwickshire countryside and is perfect for any of your guests to practice their swing before your wedding day or may be the day after following a wonderful buffet breakfast. Out on our course you will find idyllic waterfalls, bridges and lakes to choose from for your dream wedding photographs. Our new addition to our range of beauty spots is the garden Folly, which offers another unique backdrop for your day.
Walk around the main house hotel past our Grand Marquee and you will find the lower lawn, great for relaxing the evening away before your wedding with close friends and family. This area is also a fantastic space to add to your marquee wedding, for outdoor drinks, canapes or maybe your evening BBQ or Hog roast.
Our setting really does make you feel far far away from the hustle and bustle of the city.


Book your dream wedding venue in Warwickshire
Nailcote Hall can offer everything you could possibly need and more for a truly magical wedding day. Hire our venue for your wedding ceremony, wedding breakfast and reception.
Your guests are welcome to book one of our stunning hotel rooms so they won't have to miss any of the fun by leaving early to travel home.
Why not start the morning of your wedding day being pampered at our luxury leisure centre and fabulous spa? Or take a stroll through our remote and picturesque country gardens, listening to the birds morning song - a wonderful experience whether it's summer or winter?
Frequently asked questions about wedding venues
How much should you spend on a wedding venue?
That is a complicated question to answer as it depends on how many guests you are inviting and whether you are looking to hire a suite for the ceremony, host a wedding breakfast and book a space for the evening reception.

What are wedding venues?
A wedding venue is simply a place to host your wedding ceremony. However, at Nailcote hall you can make use of one of our suites for the ceremony and host your wedding breakfast and reception on our grounds too.
What is wedding venue dressing?
Wedding venue dressing involves transforming a space so that the décor enhances the wedding theme and colour scheme. Rather than endure the hassle of organising wedding venue styling separately, we can take this responsibility on ourselves when you hire our venue for your special day.
How far in advance should I book a wedding venue?
As with most aspects of wedding planning, the earlier you book, the better. With more notice, we will be able to better-tailor the venue to complement the theme and colour scheme of your special day.
Additionally, the sooner you get in touch, the higher the likelihood that we will have availability on your chosen date. With that said, there are occasions where we may have a last-minute opening; so please do talk with our team, wherever you are with your planning.
How much will my wedding venue deposit cost?
Your deposit is based on your chosen venue at Nailcote Hall Hotel, for weddings taking place in our Pavilion and Bistro/Lant Suite a £1000 deposit required, for weddings taking place in our Marquee a £2000 deposit is required. Your deposit is non-refundable or transferrable.
How many guests can Nailcote Hall cater for?

Nailcote Hall can cater for weddings of almost any sizes from 30 to 300 guests. Our luxury wedding venue is actually formed of a number of self-contained suites, as well as a large wedding marquee. This enables us to create a dream wedding day for just you and your nearest and dearest or to throw an elaborate celebration across multiple suites or even the whole of Nailcote Hall if required.
Do you allow outside catering at Nailcote Hall?
Yes, if you book our self-catered package, you are welcome to arrange outside catering for your wedding.

Best rates when you book direct