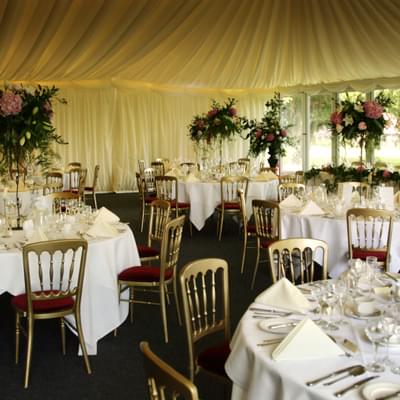 Best rates when you book direct
Wedding Anniversary Party Venue
Whether it's your 1st, your 5th, or your 50th wedding anniversary, Nailcote Hall is the perfect place to celebrate the anniversary of your nuptials.
We have a selection stylish of function suites here at Nailcote Hall, accommodating 10 to 250 people.
The Library is perfect for intimate anniversary celebrations of up to 12 guests, The Pavilion Suite can host up to 50 guests, Rick's Bar up to 120 guests, and for really large anniversary gatherings we have The Marquee, which is suitable for up to 250 guests.
What better way to celebrate your wedding anniversary than to join your family and friends with a delicious food and world-class entertainment?
We'll even take the strain off planning your wedding anniversary party. We'll talk through your requirements with you, and will do all we can to make your anniversary party an event you and your guests will never forget.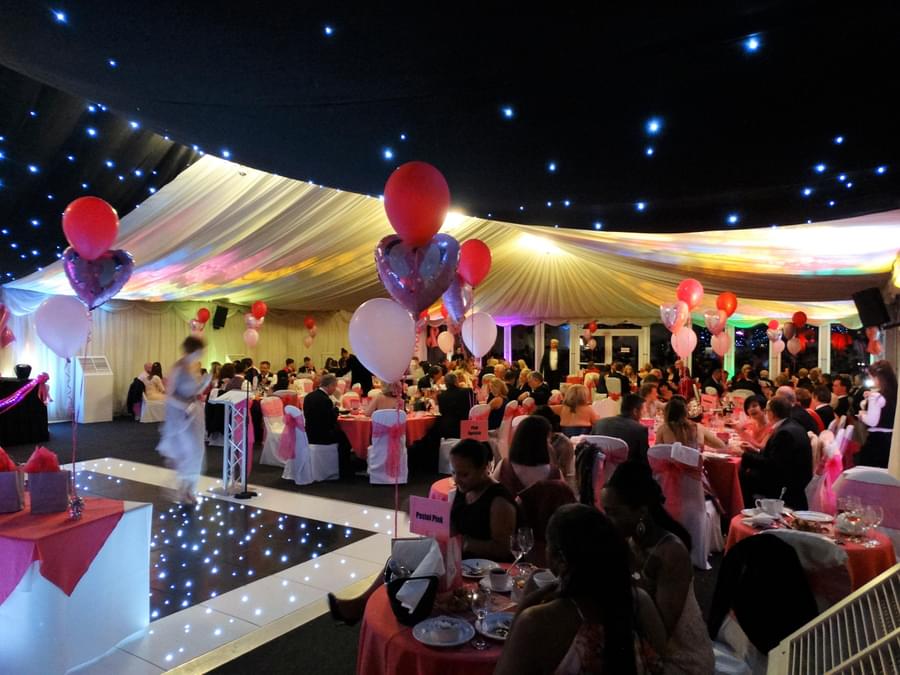 Rooms

Here at Nailcote Hall we have 49 luxury hotel rooms and suites available for you and your guests to stay in, once the anniversary celebrations have started to wind down.
Guests are also able to relax and unwind in our Leisure Club with a Roman style pool, Jacuzzi, Steam Room and Gym.
Discounted bedrooms may be available, subject to availability.
Guests not wishing to stay with us at Nailcote Hall can benefit from the venue's easy access to nearby towns and cities including Birmingham, Solihull, Warwick and Coventry.
Frequently asked questions about our wedding anniversary parties
Why should we book Nailcote Hall as our wedding anniversary party venue?
At Nailcote Hall, we take on the responsibility of hosting, so all you have to do is enjoy celebrating your anniversary. Whether you prefer a low-key party or want to paint the town red, we have the experience to make your day truly unforgettable.
You can make your special day even more so by booking one of our exquisite 17th-century hotel rooms. You could also arrive early and relax at our Leisure and Country Club, enjoy a swim in our Roman bath-style swimming pool and explore our stunning gardens.
Additionally, there are multiple transport ties to Birmingham, Coventry and Solihull; making it easy for all of your guests to travel to us via car, train or bus.
How much does it cost to hire a private room for a wedding anniversary party?
The price to hire a room at Nailcote Hall for a wedding anniversary will depend on which suite you are interested in. We have four suites available catering to a variety of party sizes. Talk to one of our event organisers for an accurate quote.
What happens at an anniversary party?
An anniversary is an extraordinary milestone, and the way you choose to celebrate will differ from couple to couple. From a small gathering to an extravagant party, the following is usually involved:
Photos of the happy couple
Balloons and other decorations
Food (from canapes to a three-course meal)
Cake cutting
The actual itinerary for the day will depend on your interests. Some prefer a conservative celebration, perhaps with an afternoon tea, whereas others may prefer a more glamorous evening with live music and entertainment.
The important thing is to plan an event that you and your partner will enjoy. We can help with that.
How can we make our anniversary party more memorable?
If you are looking to organise a wedding anniversary party that you and your guests will never forget, you could celebrate at one of our events. We host a variety of world-class entertainment evenings from tribute nights to parties spanning musical decades. We guarantee a fantastic evening with excellent food.


Best rates when you book direct