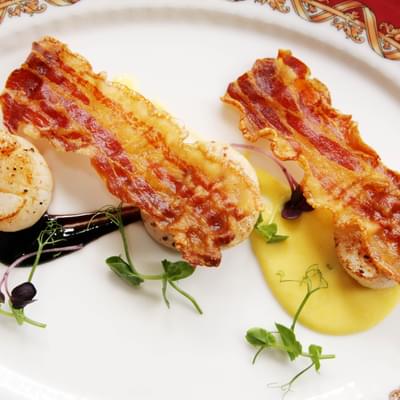 Best rates when you book direct
Press reviews of The Oak Room Restaurant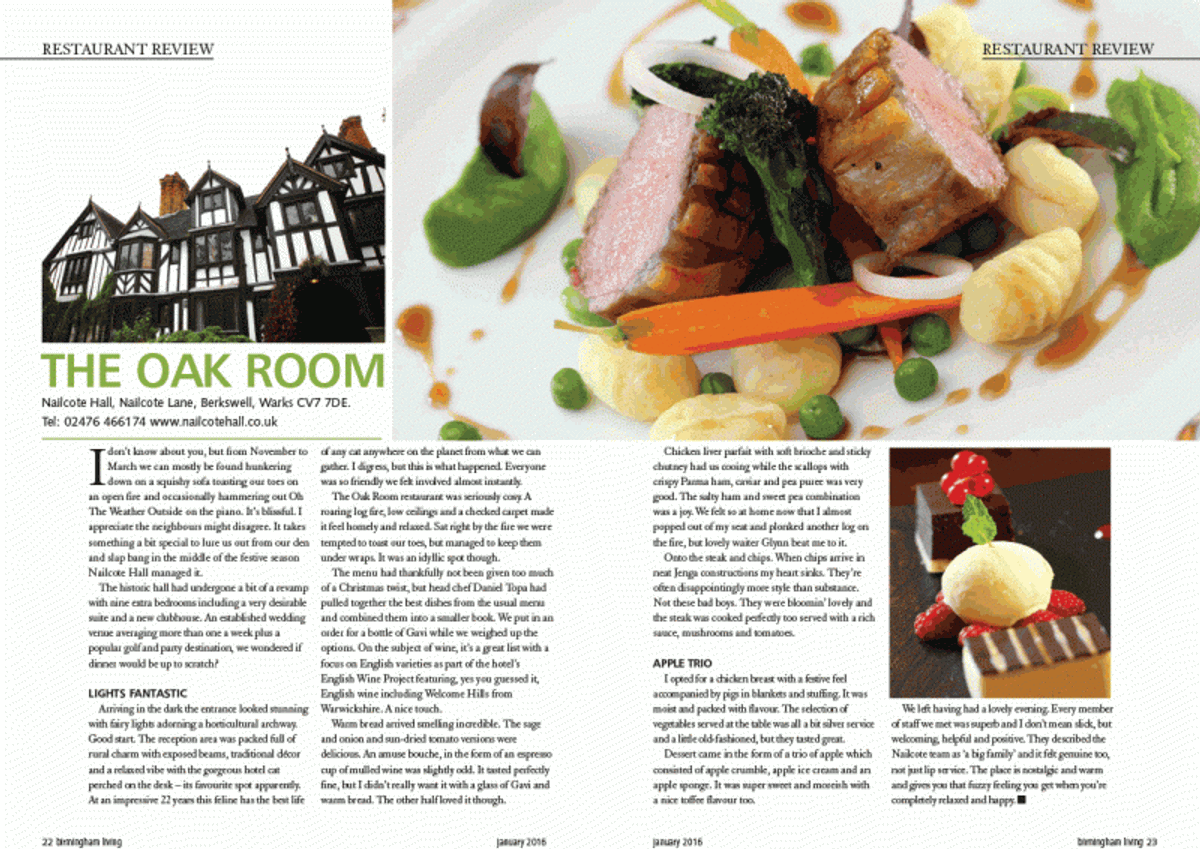 Birmingham Living Magazine - January 2016
I don't know about you, but from November to March we can mostly be found hunkering down on a squishy sofa toasting our toes on an open fire and occasionally hammering out Oh The Weather Outside on the piano. It's blissful. I appreciate the neighbours might disagree. It takes something a bit special to lure us out from our den and slap bang in the middle of the festive season Nailcote Hall managed it. The historic hall had undergone a bit of a revamp with nine extra bedrooms including a very desirable suite and a new clubhouse. An established wedding venue averaging more than one a week plus a popular golf and party destination, we wondered if dinner would be up to scratch?
Lights Fantastic
Arriving in the dark the entrance looked stunning with fairy lights adorning a horticultural archway. Good start. The reception area was packed full of rural charm with exposed beams, traditional décor and a relaxed vibe with the gorgeous hotel cat perched on the desk – its favourite spot apparently. At an impressive 22 years this feline has the best life of any cat anywhere on the planet from what we can gather. I digress, but this is what happened. Everyone was so friendly we felt involved almost instantly.
The Oak Room restaurant was seriously cosy. A roaring log fire, low ceilings and a checked carpet made it feel homely and relaxed. Sat right by the fire we were tempted to toast our toes, but managed to keep them under wraps. It was an idyllic spot though.
The menu had thankfully not been given too much of a Christmas twist, but head chef Daniel Topa had pulled together the best dishes from the usual menu and combined them into a smaller book. We put in an order for a bottle of Gavi while we weighed up the options. On the subject of wine, it's a great list with a focus on English varieties as part of the hotel's English Wine Project featuring, yes you guessed it, English wine including Welcome Hills from Warwickshire. A nice touch.
Warm bread arrived smelling incredible. The sage and onion and sun.dried tomato versions were delicious. An amuse bouche, in the form of an espresso cup of mulled wine was slightly odd. It tasted perfectly fine, but I didn't really want it with a glass of Gavi and warm bread. The other half loved it though.
Chicken liver parfait with soft brioche and sticky chutney had us cooing while the scallops with crispy Parma ham, caviar and pea puree was very good. The salty ham and sweet pea combination was a joy. We felt so at home now that I almost popped out of my seat and plonked another log on the fire, but lovely waiter Glynn beat me to it.
Onto the steak and chips. When chips arrive in neat Jenga constructions my heart sinks. They're often disappointingly more style than substance. Not these bad boys. They were bloomin' lovely and the steak was cooked perfectly too served with a rich sauce, mushrooms and tomatoes.
Apple Trio
I opted for a chicken breast with a festive feel accompanied by pigs in blankets and stuffing. It was moist and packed with flavour. The selection of vegetables served at the table was all a bit silver service and a little old.fashioned, but they tasted great.
Dessert came in the form of a trio of apple which consisted of apple crumble, apple ice cream and an apple sponge. It was super sweet and moreish with a nice toffee flavour too.
We left having had a lovely evening. Every member of staff we met was superb and I don't mean slick, but welcoming, helpful and positive. They described the Nailcote team as 'a big family' and it felt genuine too, not just lip service. The place is nostalgic and warm and gives you that fuzzy feeling you get when you're completely relaxed and happy.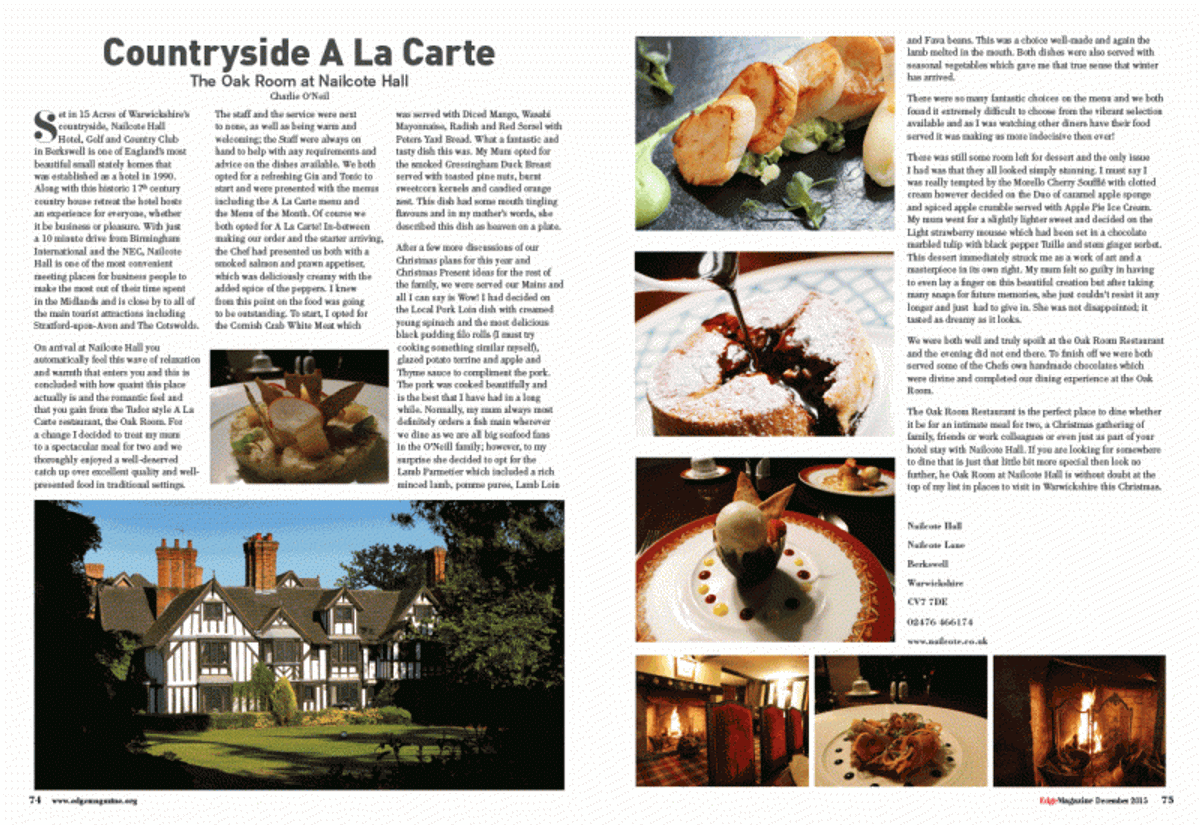 Edge Magazine - December 2015
Set in 15 Acres of Warwickshire's countryside, Nailcote Hall Hotel, Golf and Country Club in Berkswell is one of England's most beautiful small stately homes that was established as a hotel in 1990. Along with this historic 17th century country house retreat the hotel hosts an experience for everyone, whether it be business or pleasure. With just a 10 minute drive from Birmingham International and the NEC, Nailcote Hall is one of the most convenient meeting places for business people to make the most out of their time spent in the Midlands and is close by to all of the main tourist attractions including Stratford-upon-Avon and The Cotswolds.
On arrival at Nailcote Hall you automatically feel this wave of relaxation and warmth that enters you and this is concluded with how quaint this place actually is and the romantic feel and that you gain from the Tudor style A La Carte restaurant, the Oak Room. Fora change I decided to treat my mum to a spectacular meal for two and we thoroughly enjoyed a well-deserved catch up over excellent quality and well- presented food in traditional settings.
The staff and the service were next to none, as well as being warm and welcoming; the staff were always on hand to help with any requirements and advice on the dishes available. We both opted for a refreshing Gin and Tonic to start and were presented with the menus including the A La Carte menu and the Menu of the Month. Of course we both opted for A La Carte! In-between making our order and the starter arriving, the Chef had presented us both with a smoked salmon and prawn appetiser, which was deliciously creamy with the added spice of the peppers. I knew from this point on the food was going to be outstanding. To start, I opted for the Cornish Crab White Meat which was served with Diced Mango, Wasabi,Mayonnaise, Radish and Red Sorrel with Peters Yard Bread. What a fantastic and tasty dish this was. My Mum opted for the smoked Gressingham Duck Breast served with toasted pine nuts, burnt sweetcorn kernels and candied orange zest. This dish had some mouth tingling flavours and in my mother's words, she described this dish as heaven on a plate.
After a few more discussions of our Christmas plans for this year and Christmas Present ideas for the rest of the family, we were served our Mains and all I can say is Wow! I had decided on the Local Pork Loin dish with creamed young spinach and the most delicious black pudding filo rolls (I must try cooking something similar myself), glazed potato terrine and apple and Thyme sauce to compliment the pork.The pork was cooked beautifully and is the best that I have had in a long while. Normally, my mum always most definitely orders a fish main wherever we dine as we are all big seafood fans in the O'Neill family; however, to my surprise she decided to opt for the Lamb Parmetier which included a rich minced lamb, pomme puree, Lamb Loin and Fava beans. This was a choice well-made and again the lamb melted in the mouth. Both dishes were also served with seasonal vegetables which gave me that true sense that winter has arrived.
There were so many fantastic choices on the menu and we both found it extremely difficult to choose from the vibrant selection available and as I was watching other diners have their food served it was making us more indecisive then ever!
There was still some room left for dessert and the only issue I had was that they all looked simply stunning. I must say I was really tempted by the Morello Cherry Soufflé with clotted cream however decided on the Duo of caramel apple sponge and spiced apple crumble served with Apple Pie Ice Cream. My mum went for a slightly lighter sweet and decided on the Light strawberry mousse which had been set in a chocolate marbled tulip with black pepper Tuille and stem ginger sorbet. This dessert immediately struck me as a work of art and a masterpiece in its own right. My mum felt so guilty in having to even lay a finger on this beautiful creation but after taking many snaps for future memories, she just couldn't resist it any longer and just had to give in. She was not disappointed; it tasted as dreamy as it looks.
We were both well and truly spoilt at the Oak Room Restaurant and the evening did not end there. To finish off we were both served some of the Chefs own handmade chocolates which were divine and completed our dining experience at the Oak Room.
The Oak Room Restaurant is the perfect place to dine whether it be for an intimate meal for two, a Christmas gathering of family, friends or work colleagues or even just as part of your hotel stay with Nailcote Hall. If you are looking for somewhere to dine that is just that little bit more special then look no further, he Oak Room at Nailcote Hall is without doubt at the top of my list in places to visit in Warwickshire this Christmas.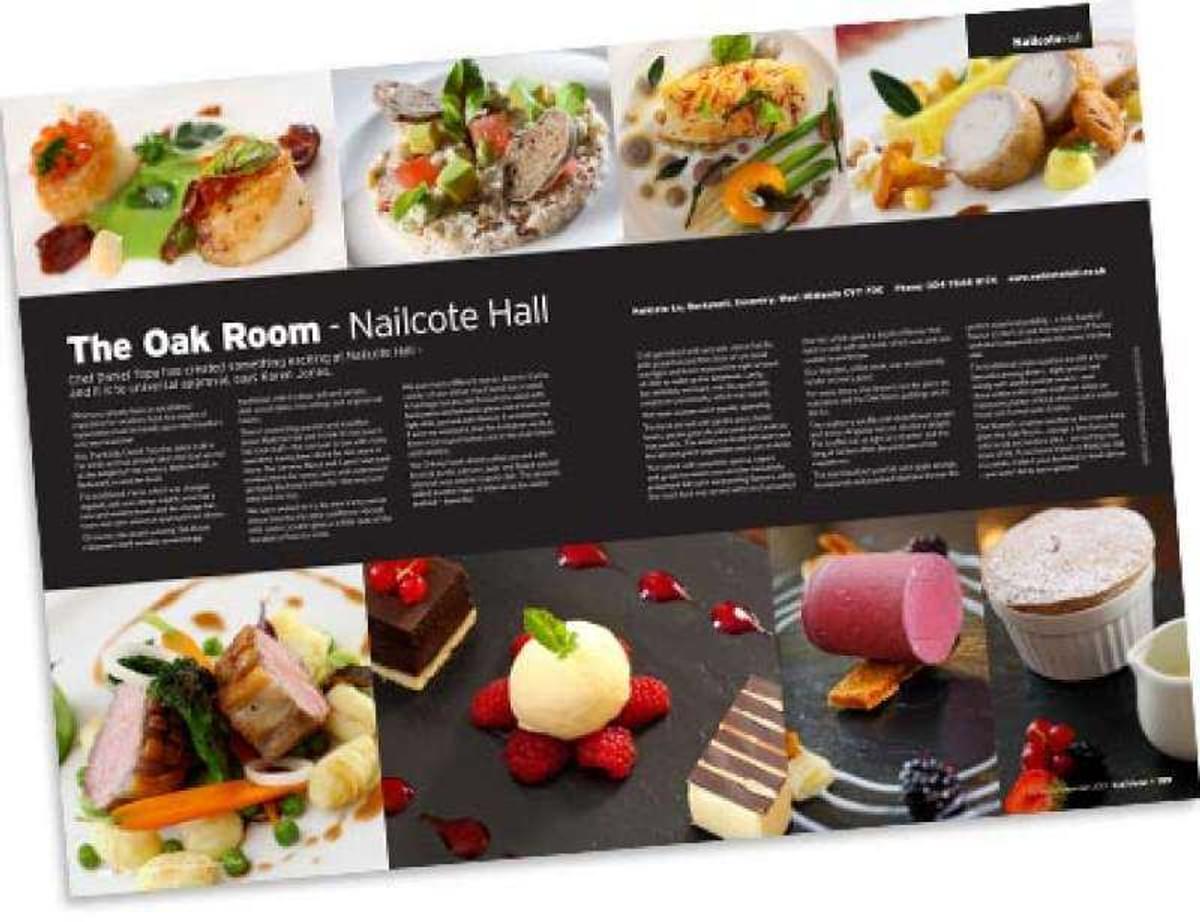 Touchbase magazine - October 2013
"Chef Daniel Topa has created something exciting at Nailcote Hall – and it is to universal approval, says Karen Jones.

When you already have an established reputation for excellent food, the weight of expectation must lie heavily upon the shoulders of a new head chef.
But, thankfully, Daniel Topa has taken it all in his stride and has already taken the food served at the delightful 17th century Nailcote Hall, in Berkswell, to another level.
The traditional menu, which was changed regularly and was always superb, now has a new and modern touch and the change has been met with universal approval from diners.
Of course, the award-winning Oak Room restaurant itself remains unwaveringly traditional, with its deep reds and tartans, dark wood tables, low ceilings and original oak beams.
There's something assured and steadfast about Nailcote Hall and I think it's because it has loyal staff – the turnover is low with many members having been there for ten years or more. Our servers, Raoul and Carol, have each worked there for many years and understand perfectly the hotel's ethos for informed and attentive service.
We were excited to try the new menu and an amuse bouche of purple cauliflower velouté with cumin crouton gave us a little taste of the standard of food to come.
We each had a different starter, keen to try the variety of new dishes that Daniel has created. A heritage tomato and bocconcini salad with basil pesto and balsamic glaze was a fresh and light dish, packed with flavour. It reminded us, if ever we needed it, that the tomatoes we buy from most supermarkets are in the main bland and tasteless.
The Orkney hand-dived scallops served with broccoli purée, salmon caviar and flaked toasted almonds was another superb dish. The almonds added another layer of interest to the subtle seafood – beautiful.
Crab garnished with avocado crème fraiche, pink grapefruit and thin slices of rye bread was light and there was just the right amount of chilli to wake up the tastebuds. Lastly, but definitely not least, was the quail with sweetcorn pannacotta, which was superb.
The main courses were equally appealing.
The lamb served with garden peas, broad beans, potato gnocchi, pea purée and lamb jus was perfect. The meat practically fell apart and the vibrant green vegetables were just al dente.
The turbot with samphire, quinoa, capers and grape tomatoes was another beautifully presented dish with outstanding flavours, while the roast duck was served with kirsch-poached cherries, which gave it a depth of flavour that went so well with the meat, which was pink and cooked to perfection.
Our final dish, a fillet steak, was exceptionally tender and very good.
For many diners, the desserts are the pièce de resistance and the Oak Room puddings are to die for.
The raspberry soufflé with elderflower sorbet and lemon Anglaise was an absolute delight. The soufflé was as light as a feather and the tang of sorbet offset the perfume of the raspberries.
The iced blackberry parfait with apple sponge, honeycomb and poached blackberries was the perfect autumnal pudding – a real, depth of flavour to the fruit and the explosion of flavour with the honeycomb made this a very exciting dish.
The traditional crèpe suzettes are still a firm favourite among diners – light and served simply with vanilla pod ice cream – and those without the sweet tooth can enjoy an impressive platter of local cheeses with walnut bread and homemade chutney.
Chef Daniel's creative touches to the menu have given the Oak Room – always a firm favourite with locals and visitors alike – an exciting new lease of life. If you haven't been to Nailcote Hall in a while, make it your business to book dinner – you won't fail to be impressed."
Best rates when you book direct