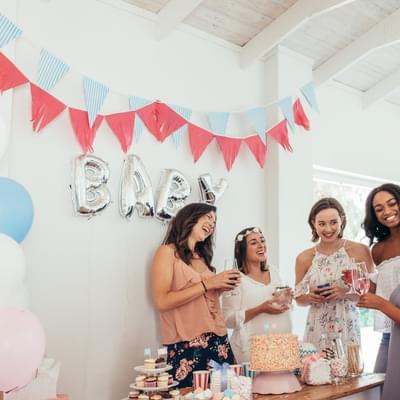 Best rates when you book direct
How to Plan a Baby Shower
How to Plan a Baby Shower
Awaiting the arrival of a precious baby is one of the most exciting times of the expecting parent's life. Celebrating the soon arrival of a newborn with family and friends at a baby shower creates unforgettable memories for all.
As the baby shower hostess, you'll have a lot to keep in mind when planning the celebration. Considering the mum-to-be's personality, what she loves to do and deciding on refreshments and entertainment is highly important to ensure the party is a success. Despite the organisation involved, planning a shower is super exciting and will create special memories for the expectant Mother.
At Nailcote Hall, we have put together a step-by-step guide to what it takes to pull off the ideal baby shower party for the mother-to-be and her new bundle of joy.
Tips for Planning Baby Shower UK
Follow these steps and baby shower ideas to plan a meaningful and fun celebration:

Select the Date and Time for the Baby Shower
To start the planning of the baby shower, discuss potential dates and times with the guest of honour for the celebration. Most baby showers are held around four to eight weeks before the due date - ensuring the guest of honour is still pretty comfortable and safe into her pregnancy. This gives the new-to-be mother and her partner enough time to organise their gift needs and decide what still needs to be purchased.
Determine the Guest List and Budget for the Celebration
Come up with a budget for the party and put together a guest list with the Mum-to-be (don't forget to get the addresses, too, so invitations can be sent out once the venue is confirmed!). This will make sure you will get a great venue for all your guests, which is within the budget.
Choose the Perfect Baby Shower Venue
In order to choose the perfect baby shower party venue - you'll need to consider a number of things. From guests and budget to the time of the year - you may want to take advantage of the UK's finest weather or even hide from it! Do your research - what locations are easy to get to for all the guests and will be able to cater for all needs. Here are a few options to consider for where to host the baby shower:
Home Baby Shower
If your party is small and intimate, hosting the party in the Mum-to-be home might be the most comfortable option. Just be careful not to add any further stress to the new-to-be mum's intensive preparations and after-party cleanup.
Hotel Or Restaurant
Hiring space in a hotel or restaurant is a popular choice amongst baby showers. You don't have to worry about preparing food or cleaning up after guests. Whether you choose afternoon tea or brunch - you'll be sure to find a place near you that pleases everyone.
Destination Venue
A Destination baby shower could be a great option for your mum-to-be. Consider her favourite things: would a weekend away with her closest friends or a pregnancy spa day with beauty treatments be right up her street?
Plan the Room Decor
Pick a fun theme for the room that the new mum-to-be will love! Whether you know the gender or not, there are a bunch of fun themes that you can choose from so you can decorate the room to make it extra special for the party. Most venues won't supply decorations, so make sure you are prepared. Think about tabletop decorations, banners, balloons, and photo props. Don't forget the cake! You could even have a baby shower dessert table - that always goes down well.
Baby Shower Games
Most baby showers include a range of games, gifts, eating and drinking. So don't forget to set up some entertainment with some fun games! You might want to start the party with an ice-breaker, especially if not everybody knows one another. 'Who is that baby?' is a super easy game to organise and will set the baby shower party off to a great start! Make sure everyone brings a baby photo of themselves and plays a round of who is who.
There are a bunch of other fun games to play, such as baby bingo, trivia games all about the mum-to-be or bobbing for dummies.
Don't forget some keepsakes for the mum-to-be to remember the great celebrations. Getting guests to sign ABC blocks and write down wishes for the baby are easy ideas that the parents can keep forever.

Book the Perfect Baby Shower Venue in Birmingham!
Nailcote Hall is in the heart of the Midlands, set in the tranquil and picturesque views of Warwickshire countryside - the perfect venue for a baby shower or even a christening!
Whether you have a small party or a large one, here at Nailcote Hall, we can cater for your every requirement. Get in touch with our team today at 02476 466174 and start planning the perfect baby shower for the mother-to-be!

Tip: If you need any more inspiration, read our blog on unique baby shower ideas.
Best rates when you book direct