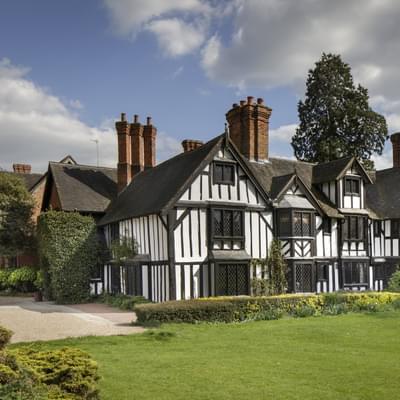 Best rates when you book direct
Atherstone Wedding Venue & Golf Club
Just 30 minutes away from Nailcote Hall, Atherstone is a gorgeous place to spend a day out and about. When you're not enjoying the many activities and entertainment options of our hotel, why not pop over to Atherstone for a little adventure?
Atherstone is a market town and civil parish located in North Warwickshire. Boasting natural beauty and interesting heritage, this is the perfect place to visit if you're at Nailcote Hall for a wedding, conference, event or golf getaway.

Where is Atherstone?
This small town can be found in the North Warwickshire district of Warwickshire. Nestled between larger towns like Tamworth and Nuneaton, Atherstone is approximately 18 miles from Nailcote Hall.

Things to Do in Atherstone
While Atherstone is a small town, it has plenty to be enjoyed. Dating back to Roman times, history seeps out of the very stones. In addition to this, the town is surrounded by natural beauty, making it the ideal daybreak for those who are wanting to unwind.
So without further ado, here are the top Atherstone attractions and activities, for couples, friends, and families alike.

Anker Wood
This seasonal zoo and nature trail is the perfect place to spend a few hours. If the weather is good, you'll love walking along the wild wood trail, exploring the mazes, and seeing the lovely farm animals. There is even some soft play for the kids.If you want to spend a few hours here, bring a picnic blanket and some snacks along. It's a beautiful space, so it is well worth taking your time to experience it fully.

Ace Karting
While we boast an excellent
golf course at Nailcote Hall
, adding a few more sports to your vacation will not go amiss. Karting is a particularly fun team building activity if you're staying with us for a
conference
. It is also the perfect birthday activity if you're here for a
birthday party
. Just note that it is only suitable for children over the age of eight.What's particularly great about this excellent karting facility is that you can book the track for your group, without having to share. And while the safety precautions and briefing are good and comprehensive, they do not take an 'overboard' approach to safety. Instead, the focus is on the fun.

Hartshill Hayes Country Park
This peaceful country park is a wonderful place to walk and relax. With plenty of varying walking trails, there are options to suit anyone, whether you're looking for easy footpaths or more adventurous trails. There is also a playground for the kids and a cafe where you can grab a coffee and a bite to eat. This is a great place to bring the kids, friends, and even pets, as it is dog-friendly. And if you're staying at
Nailcote Hall for your wedding
, it is also a wonderful place to bring your significant other for a romantic picnic, with an expansive view before you.
Where to Eat in Atherstone
While we recommend that you try to make it back for dinner at our excellent fine dining restaurant, you may want to grab a bite to eat while in Atherstone. Roki Burger Store makes incredible hand-crafted burgers, while The Kings Head is a pub that serves top-quality traditional English cuisine. If you're looking for something a bit more casual, The Fish Inn makes excellent fish and chips.

Ready to Experience Atherstone?
Atherstone is a picturesque, pretty British town, perfect for a day outing. Whether you want to get speedy on the karting tracks or go slow on the walking trails of Anker Wood or Hartshill Hayes, you're sure to have a memorable day in Atherstone.

Book your hotel room online or contact us directly to discuss availability.

Best rates when you book direct