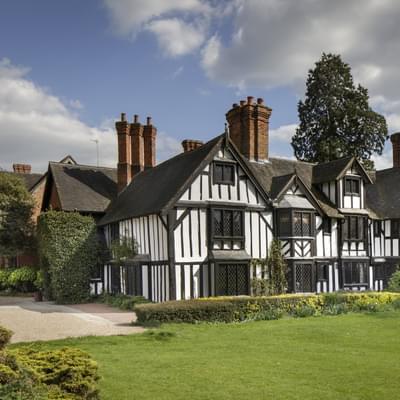 Best rates when you book direct
The passing of a loved one is a difficult and emotional time for family and friends, and it can be challenging to decide the best way to commemorate their life. A funeral wake offers a dignified celebration of the individual's life and may be the best option for your family.
Nailcote Hall has the venue, experience and facilities to hold a memorable, comfortable and tranquil ceremony for your loved one. As many are unsure what this ceremony is, we have put together this guide on understanding what a funeral wake is. Keep reading to discover if this ceremony will suit the wishes of your loved one and those who will remember them.
What is a funeral wake?
A wake funeral is a celebration of life ceremony that incorporates a social gathering to pay respects to the loved one. A wake, often held before a funeral, gives close friends and relatives a chance to watch over their loved one and spend a few moments thinking and speaking about them. This is a lovely option for those that want to commune over the life of the deceased in a comfortable, warm manner.
A traditional funeral service allows you to say a final farewell to the deceased, but a funeral wake generally involves food, drinks and sharing happy memories. Whether this is well-suited to your family and friends will depend on your individual situation, but a wake funeral is, by and large, acknowledged to be a warm, meaningful celebration of the life of the deceased.
Can you hold a wake after a funeral?
While wakes are traditionally held before a funeral, we prefer to hold the wake after the funeral. This allows the basic ceremony to take place with all of those who want to pay their respects. The wake can then either be attended by everyone present or only close friends and family members. This gives attendees more options on how they would like to pay their respects.
At Nailcote Hall, we have many years of experience hosting funerals and wakes and know that colleagues and acquaintances may only be welcome at the funeral, or may only want to attend the funeral. Celebrating the life of the deceased is more regularly done by those who loved them, making a wake more appropriate for relatives and friends.
How does a funeral wake differ from a traditional funeral?
A funeral wake and a traditional funeral are both ways to honour and say goodbye to a deceased individual, but there are some key differences between them.
A traditional funeral typically involves a formal ceremony or service that is held in a place of worship, like a church hall, or a funeral home. The ceremony may include religious or cultural rituals, speeches, eulogies, and music. After the ceremony, the casket is usually taken to the cemetery or crematorium for burial or cremation. A funeral wake, on the other hand, is a more informal gathering that takes place before or after the traditional funeral.
While a traditional funeral is usually led by a religious leader or officiant, a funeral wake may not have a formal leader. Additionally, while traditional funerals tend to be more solemn and structured, funeral wakes are often more relaxed and may include food and drink, and even music.
In summary, a funeral wake is a less formal gathering that provides an opportunity for close family members and friends to come together and support one another before or after a funeral service.
Why choose Nailcote Hall?
Our 17th-century hotel is surrounded by serene nature, making it a beautiful and tranquil space to hold a wake funeral reception and service. We offer several private function spaces that can accommodate groups of between 10 and 280 guests. So no matter how many people want to celebrate the life of your loved one, we can accommodate them comfortably.
In addition to this, our professional team work with the greatest sensitivity at this difficult time to ensure that everything runs smoothly without requiring your constant input. We are also able to provide you with full catering services, so you don't need to worry about a thing.
Lastly, our funeral wake venue is conveniently situated in Balsall Common, with local transport links to Coventry, Birmingham, Solihull & Warwick. Nailcote Hall is also just a short drive from Canley Crematorium, Coventry Train Station, Birmingham International Airport and Train Station.

If you want to know more about our memorial service or the funeral wake packages we offer, please don't hesitate to get in touch. We know that this is a difficult time, and we would be happy to help take any weight off your shoulders.
Best rates when you book direct