Best rates when you book direct
21 years of the Farmfoods Brit…
21 years of the Farmfoods British Par 3 Championship at Nailcote Hall
RICK REFLECTS
It's so hard to believe that it's been 21 years since the par 3 was relaunched in 1998 when Charlie Ward, who played in the original event back in 1933, teed it up for an honorary show alongside the man who inspired me to hold the event – Sid Mouland.

Charlie hit his tee shot, turned to Sid and said "so where do we go now?" and proceeded to play all 36 holes!
Sid Mouland's love of the short game and the Cromwell Golf Course was infectious and I am sure he would be very proud of the quality of the course today and my feeling that this may be a small course but it has a mighty big heart.
It really is now Warwickshire's answer to the Par 3 at Augusta for beauty but with an even bigger challenge. Even back in 1998 it tested the pros and our first winner Peter Baker remarked after his first nine holes that he was doing quite well after 6 holes at three under par but holes 7,8 and 9 cost him three bogeys – "I have never had three successive bogeys in just 20 minutes in my pro career."
The course has developed a lot since then, but 7,8 and 9 still remain the key to winning the tournament. Wouldn't it be great if that young Peter Baker whose now on the Staysure Tour wins again in our 21st anniversary year and join the ranks of our only two double winners Mark Mouland and Richard O'Hanlon?
There have been many wonderful moments to enjoy but the arrival of Max Faulkner the 1951 Royal Portrush Open Champion to play with fellow Ryder Cupper Charlie Ward and a surprise guest player Sir Norman Wisdom can never be forgotten or bettered.
In the last 21 years we've enjoyed some great golf and great champions of all ages from 23-year olds Tommy Fleetwood and Eddie Pepperell to 58 year old David J Russell – anyone can win! And Ladies European Tour player Meghan MacLaren only just missed being our first lady winner two years ago – she's won twice on the Tour since.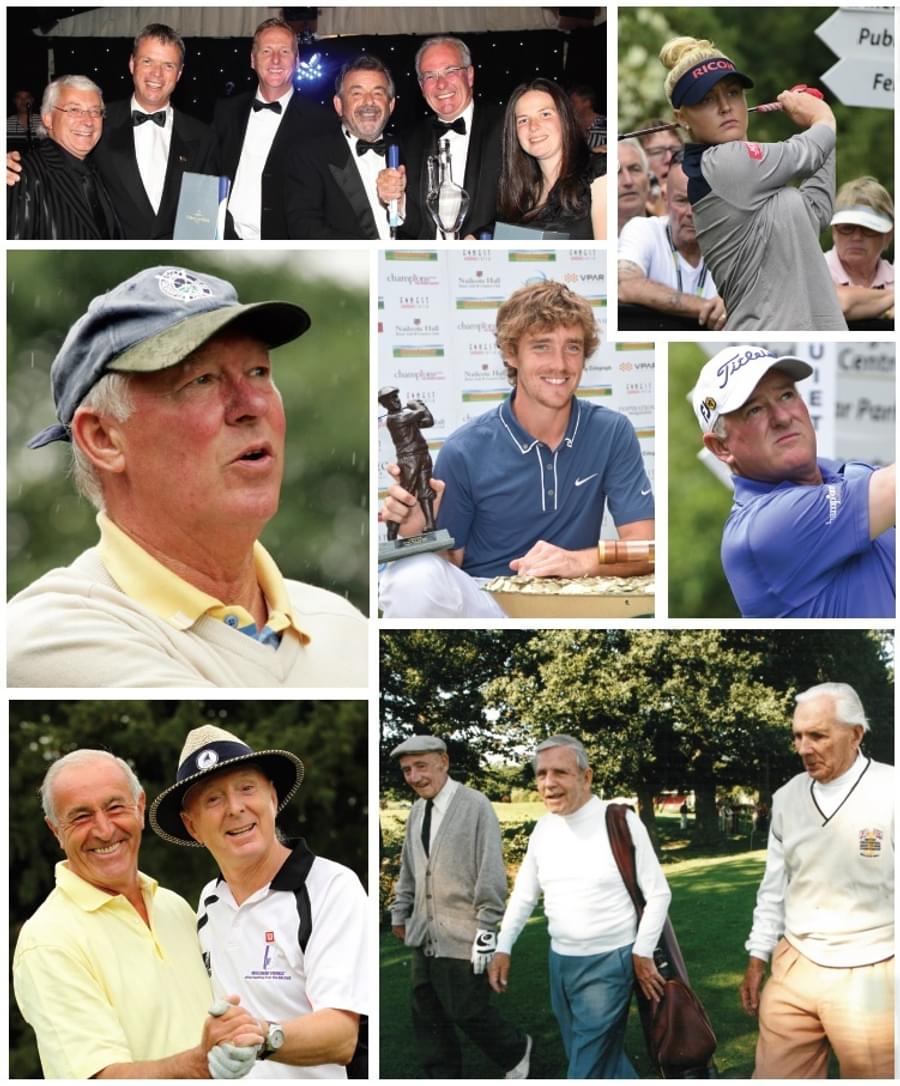 To see young players like Charley Hull and Aaron Rai who have played as amateurs and won the Norma C Herd 'Silver Salver' now developing successful professional careers and wins on their respective tours is such a thrill for us all.
Through most of the last 21 years I have been lucky enough to have amazing support from my very understanding wife Sue – she thinks I might turn into a fish for all the work I have done with the ponds!
In the last 12 years my partnership with John Hayes of Champions (UK) plc has enabled the tournament to grow beyond my wildest dreams. I can never say enough thanks to our title sponsors Farmfoods and Eric Herd for his constant encouragement and commitment to seeing the event become the world's greatest "minor".
And of course, here we are after 21 years enjoying the Farmfoods British Par 3 Championship with our host Tony Jacklin CBE celebrating his 50th anniversary of winning the Open in 1969 – we fought for Max Faulkner's OBE and it really is time for Tony to be Knighted.
Tony has been an inspiration to me and has driven me to constantly improve the course and especially our greens to make the venue thoroughly fit for the stature of the event.
Now where to in the future? The par 3 is the most inclusive golf tournament in the world now and this year we welcome our first amputee professional Michael Browne which again shows how this game of golf can be enjoyed by everyone and all ages competing on an equal basis on a superb Par 3 course.
The further development of our juniors 'Monday Qualifier' is another aspect of the event which we all hope will develop and to see 14 single figure handicappers competing this year ages between 10 and 15 is fantastic.
After 21 years I believe the Farmfoods British Par 3 Championship has influenced and opened a lot of eyes in the world of golf and hopefully this will continue in the future with even more Major champions and tour winners coming to sample the delights of the Cromwell Course here at Nailcote Hall.
Thanks again to everyone who has supported our efforts – Sue and I have a great team here at the hall and our partnership with Champions (UK) plc, Farmfoods, and Tony Jacklin has made a lot of special memories with more to come.
Best rates when you book direct