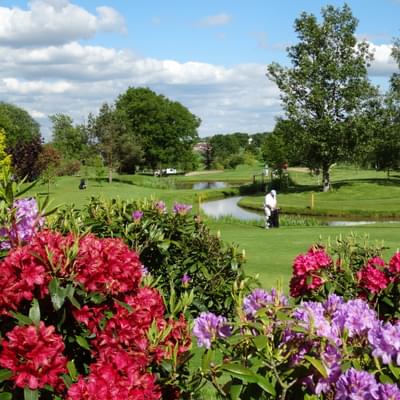 Best rates when you book direct
5 Reasons to Book a Stay and G…
5 Reasons to Book a Stay and Golfing Break at Nailcote Hall
We all love a good break - nothing beats escaping the world of work and the stresses of everyday than a trip away to somewhere calming, quiet and stress-free. Here at Nailcote Hall, we have many people coming through our doors, and leaving looking refreshed and ready to tackle life head-on.

But many people need a reason to take a well earned break. We are in an era where work follows us everywhere, with mobiles, the internet and expectations always meaning we can never truly get some hard earned rest. So we have taken it upon ourselves to give you some well thought out reasons as to why you need to book a stay and play golfing break in Warwickshire, with Nailcote Hall.
Gorgeous Country Retreat
Nailcote Hall is a magnificent country retreat. Dating back to the 16th Century, withstanding multiple wars in Britain's hectic past (the British Civil War and William The Conqueror to name a few), Nailcote Hall has a rich history. Nowadays, it is a place for luxury and leisure. With a mix of Tudor and Georgian architecture, large green trees and magnificent grounds, what better reasons do you need to book a break with us?
World Class Golf Course
Did you know that Nailcote Hall has a world famous, professional golf course? Our Par 3, 9 hole course is perfect for the most seasoned of players looking to hone in on their short game, or for complete beginners to learn what is one of the most iconic and globally recognised sports in the world.

Our course is also home to the Farmfoods British Par 3 Golf Championship, a tournament which descends on Nailcote Hall every August. 2018 see's the championship celebrate its 80th anniversary, and promises to be a major event in the 2018 European golfing calendar. Nailcote Hall offers a great venue, location, and pristine greens, and as a world class golf course, what other reason do you need to book your stay?
4 Star Warwickshire Hotel
Nailcote Hall is a fully fledged 4 star hotel.
Our 49-room hotel features a range of rooms in a range of styles and
decor to match your preferences. The magnificent architecture of Nailcote Hall offers you a unique stay in one of the finest Country Houses in the region. Whether simply for a couples weekend getaway, or for a corporate retreat, our hotel is perfect for all your needs and wants, allowing you a relaxed and chilled break.
Fantastic Food
During your break with Nailcote Hall, make sure you take advantage of our awesome restaurant, The Oak Room. Located in the 17th century manor house, the interior is dominated by beams throughout, with traditional dishes such as steak diane and crepes suzettes and house speciality flambe dishes, which are cooked at your table.

Planning your break over the weekend? Check out our amazing Sunday dinner mena. Take a look at our full menu of delicious food.
Leisure Facilities
Nailcote Hall has a superb range of leisure facilities that can make you break all the more relaxing. Imagine waking up in the morning in one of our superior suites, having a morning workout in our gymnasium, and then heading out for a round of golf on our Par 3 golf course. Don't fancy golf? Well we have great tennis courts with Berkswell Tennis Club just one mile away.

After a busy day outdoors, and before indulging yourself in The Oak Room restaurant, why don't you cleanse yourself in our steam room and jacuzzi to round of your relaxing day in the most relaxing way possible. You can even take a swim in our 14-metre long Roman-bath style swimming pool.
Here at Nailcote Hall we've created the ideal place to go for an all in one stay and golfing break. With various options of relaxing and escaping the busy working world, contact us or book today.
Best rates when you book direct