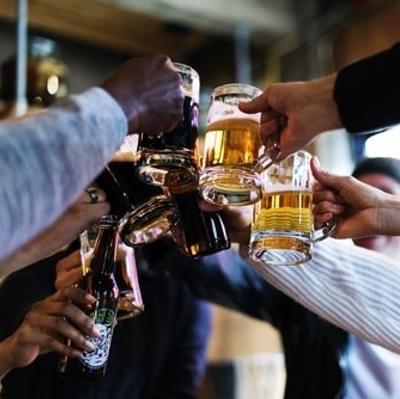 Best rates when you book direct
Work Nights Out In The West Mi…
Work Nights Out In The West Midlands
You may not think it, but socialising and making friends at work will help increase productivity in the workplace, boost morale and enhance with problem solving. Alongside this, if your colleagues are comfortable around each other, communication is improved and this helps to maintain your employee retention rate. After all, the saying goes, "you don't leave your job, you leave your boss".
A great way to bond as a team is by going on a work night out, and every company should have a social side - it's only natural. Nailcote Hall have put together some ideas for a great work night out that you and your colleagues will enjoy. Whether you're visiting for a networking event and looking for something to do in the evening, or you want to treat your employees to a night out in the West Midlands, here are a few great ideas!
Work Night Out Ideas
Go and see a Tribute act
Tribute acts have big boots to fill, but when their act is put together and polished, you can see a reenactment of your favourite band for a fraction of the price. Alongside this, a tribute band is much more accessible than some acts (take Elvis or Michael Jackson for example) and they often come and socialise after playing. If there is a favourite band or performer you and your colleagues regularly listen to and enjoy, then why not take them to see a tribute act of the band/performer(s) in question? It's an inexpensive way to have a great night out and enjoy some excellent music. What makes a tribute act so great is that it caters to people of all ages.
Nailcote Hall offer a wide range of Tribute Act Performances in Solihull. We're proud to host a variety of phenomenal tribute bands - they're almost as good (if not better) than the real deal! From Abba to Take That or Rod Stewart to The Beatles, you'll be surrounded by great company, spectacular entertainment and a delicious three course meal from our impeccable chefs at Nailcote Hall. Check out our Tribute Nights in the West Midlands here!
Have an 80s themed night
Dig out the shoulder pads and perming kits because the '80's are back, and they're back with a vengeance. Everyone loves the '80's and it's easy to see why. It was the era of The Breakfast Club, Boy George and Cyndi Lauper. The '80's was responsible for the birth of the iPhone's/iPod's great-great-great grandparent - the Sony Walkman. We all remember the fear of your Walkman desecrating your favourite tape as well.
SImilarly to Tribute Acts, an '80's themed night out is a great way to cater to an array of age groups within the workplace - we all appreciate that it was the era where geeks and rockstars reigned, and musicians did their own thing. There are plenty of excellent eighties style venues in Birmingham and the West Midlands, but of course Nailcote Hall's Gr80's night is one of the best. With an array of tribute acts, run and frivolity, your work colleagues can dress-up, have a few drinks and let their hair down! The 'Back to The '80's Party' also includes a delicious three course meal. Get your tickets here.
Hire a garden marquee
As we approach Summer, we're blessed with warmer temperatures and longer days. If your work colleagues love nothing more than a pint or two in the sun, then why not hire a marquee in a stunning garden? At Nailcote Hall, you can hire our beautiful Marquee located on the Terrace Suite Lawns - it is perfect for a large corporation! We'll also provide the bar, full catering and a dance floor upon your request. What makes hiring the Marquee so great is that you'll all be in the same space together, and you'll have it to yourself! Find out more about it here.
Afternoon Tea
Not everyone in the office will fancy a big night out - and that's okay. If you're trying to plan an event for your employees, then why not start with a spot of Afternoon Tea? This means that everyone can join in, and those who want to stay and party can continue to do so, and others can go home.
If you're after a quaint afternoon tea that will exceed expectations, then Nailcote Hall is the place to go. This quintessentially British venue boasts stunning gardens, and serves afternoon tea in the Oak Room Restaurant. With freshly baked scones served with clotted cream and jam, macaroons, finger sandwiches and the finest blend of teas, it's the perfect way to spend time with your colleagues. You could also spice it up by adding some Hendrick's Gin, Pimms or Prosecco…. Find out more about Afternoon Tea at Nailcote in Warwickshire.
The Do's and Don'ts of a Work Night Out
At Nailcote Hall, we've seen our fair share of work nights out in the West Midlands, and we want to make sure you and your colleagues have the best time. Follow our tips and you'll have a great night out!
Do
Book accommodation if you're far away from home
If you're not local to the West Midlands (or the venue in question) and you're relying on public transport to get you home, we recommended you book accommodation so that you can fully enjoy your night out. Book a room at Nailcote Hall and make a mini-break of it.
Socialise with everyone
It's easy to stay with one group of people during a social event with your work colleagues - but you end up missing out when it comes to getting to know everyone. Socialise, chat to everyone and enjoy yourself!
Pace it
If you're indulging in a few drinks, then make sure to pace it and go slowly. No one wants to be paralytic before it's 10 PM. Take it slowly when it comes to drinking and try not to over do it on the shots!
Don't
Talk about work all night
THe topic of work is going to come up - it's inevitable. But try not to go on about it all night long. After all, you're all here to have a break from work!
Get trashed
Don't get so drunk that you end up making a bit of a fool out of yourself! You don't want the office to be talking about you for the wrong reasons…
Get in touch with Nailcote Hall and arrange your work night out in Warwickshire today!
Best rates when you book direct