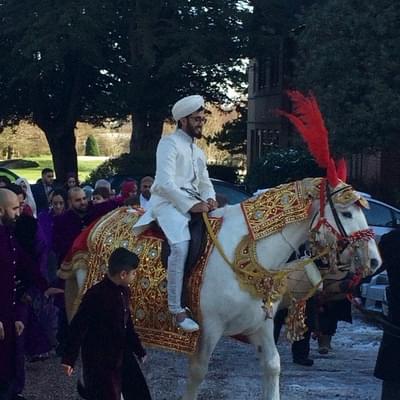 Best rates when you book direct
Tips For Planning The Perfect …
Tips For Planning The Perfect Asian Wedding In 2018
2020 will almost be upon us, and it's time to start planning your perfect self-catering Asian wedding. Whether you have a wedding date for later this year or in 2020, planning the perfect Asian wedding takes time and patience. From picking the perfect food (from halal to vegetarian) to the stunning table arrangement, and ceremony, the day must run smoothly and every detail needs to be flawless. Your wedding is a once-in-a-lifetime event that will represent who you and your partner are as a couple, whilst seamlessly integrating your cultural beliefs so that you have the perfect fairy tale wedding.
So, whether you're planning a traditional Asian wedding or a more intimate affair, there are a variety of different options to explore to make sure your wedding is everything you want it to be. To help, we've put together a list of tips to for to help you plan the perfect Asian wedding.
Pick a date and try and stick to it
If you haven't already - before you do anything else, you'll need to decide on a date. Asian weddings can take a LOT of preparation so it's crucial once you set a date that you stick to it and plan around it. As soon as you've picked a date you'll need to set a budget, and choose a venue that accommodates the right number of guests and meets your cultural beliefs - this is where you'll need to find a venue that is available on your desired date. If you can't decide on a particular date straight away, decide on a month first.
Set the right tone with the right venue
It's important to keep in mind the size of your guest list as well as your wedding budget when searching for a wedding venue. For a traditional wedding you might be after a larger space where you'll have lots of room for guests or if you're looking for a themed wedding you'll want to consider a marquee/tent type venue that can be transformed into your perfect venue with carpets and furnishings. It's worth remembering when looking at venues to have an idea beforehand of what you are looking for to avoid wasting your valuable time. Nailcote hall offers a fantastic glass marquee with a capacity for 320 guests, with panoramic views of the Warwickshire countryside.
Consider a theme
If your looking to make your wedding stand out for your guests, consider choosing a fun or unique theme. A theme can reflect your personality or something you love that translates well into a theme. There are a variety of potential themes available to choose from so it's worth exploring your options. A Bollywood theme is often a popular choice for Indian weddings, and goes down well with guests. This might involve your relatives dressing up as iconic Bollywood stars and entering your venue on a long red carpet with photos being taken. Another potential theme is a tropical theme - related to sunshine, beaches, and blue water. Red, yellow and orange colours on a white base dominate in a tropical wedding theme.
A good surprise goes down well
Everyone likes a good surprise, so why not surprise your guests with entertainment they won't expect. Perhaps hire a bhangra artist or a Bollywood choreographer to get your friends and family up and on their feet or you could book a magician who can go from table to table surprising your guests with a wide variety of tricks. Whatever entertainment you choose, go for something that will make every guest feel involved and a part of your wedding but most of all - lets everyone have a bit of fun.
Food glorious food
Deciding a menu can be a real challenge, especially if you have hundreds of guests dining at your wedding and it'll be a moment where you don't want to let your guests down. However, rather than going overboard with the food it's cultural dishes that seem to get the best reactions as they resonate with most guests who share the same culture and it is exciting to those from other cultural backgrounds who may not be familiar with some of the dishes.
Don't Forget the Decorations
Regardless of your budget, wedding size or theme - eye-catching decorations are essential to any Asian wedding. Whether you go for simple, eye-catching decorated zones or something more extravagant, the decorations will help set the tone and atmosphere of the wedding. Most of the Asian weddings decorations are flower based as they add warmth comfort to the wedding. When choosing flowers, select a colour scheme according to your taste and if your wedding is themed, choose flowers that will match well with it.
Enjoy Yourself
Weddings can be stressful as it's one of the most important days of your life. However, it should also be one the funnest days of your life. Make your special day enjoyable by doing some relaxation exercises in the days before, participate in dancing when the music starts, organise activities that are fun and get people involved. Decide what fits you, your culture and your religion and when the day starts enjoy every moment.
For more information about booking your Asian wedding at Nailcote Hall please contact 024766 466 174.
Best rates when you book direct