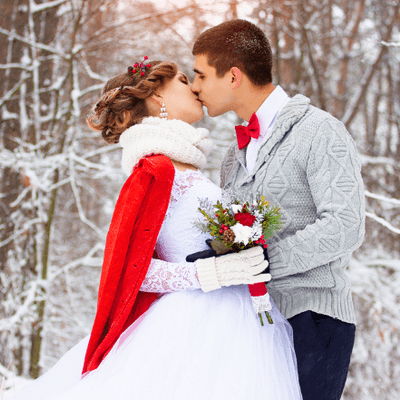 Best rates when you book direct
5 Winter Wedding Tips You Need…
5 Winter Wedding Tips You Need to Know
With summer time a distant memory of the past, and winter just around the corner it's time to talk about one of our favourite things here at Nailcote - the perfect winter wedding. Winter is a beautiful time of year where the whole world changes colour. The frost, snow and crisp air has a certain allure, and having a wedding during one of the most magical seasons of the year will be nothing less than an enchanting and unforgettable experience.
So, you've had your fairytale proposal with 1,000 yellow daisies and now it is time for one of the most exciting chapters of your life - planning your dream winter wedding. Whether you want an intimate affair or enormous celebration, there are so many options to explore, if you want to have your dream wedding during winter. We've come up with five simple tips to help you have the perfect winter wedding.
It's All About The Food
A winter wedding means that you can get really creative with the menu, and steer away from the tasteless rubbery chicken dinners that you're so good at pretending to enjoy… The best thing about the colder season is the delicious comfort food that comes with it. Casseroles, stews, strudels, pies and roast dinners are all simple dishes that can be made into vegetarian and vegan options, catering to all of your guests.
Yes, your winter wedding should show just how committed you are to your spouse, but let's not forget the one thing that's been a solid throughout your life - delicious winter food. So, it only makes sense that your wedding shows just how much you love your partner AND food...
Try and Book Outside of the Festive Period
Winter is synonymous with Christmas, which as we all know is one of the busiest times of the year. If your fairytale wedding falls on Christmas Day then make sure you plan ahead in order to book your dream venue. However, if your perfect Christmas Day consists of drinking a bit too much eggnog and falling asleep in front of the Doctor Who Christmas Special, and you haven't got your heart set on a Christmas wedding, then think about booking your winter wedding outside of the festive period.
The majority of venues, vendors and photographers have increased availability for out of season weddings, which means it is easier to find a date that everyone can make. Many places offer cheaper package deals and discounts for out-of season winter weddings, so you may even find you've saved some extra cash.
Come up With a Plan B
If there's one thing we should take from the British Weather, it is that it's incredibly volatile and unreliable. If you've planned an outdoor winter wedding with a heated marquee and plethora of blankets, lamps and thermals, then it is wise to have a backup plan just incase there are strong winds or stormy weather.
It is also important to remember that the UK loses natural daylight much earlier, as the clocks fall back during Autumn, winter is notorious for darker evenings and mornings, which is why you should plan for your wedding photos. If you want to have your wedding photos in natural daylight then you could potentially have an earlier ceremony, but this means that your wedding day will be a lot longer for your guests. As long as you've provided them with enough food and drink, this probably will not be a problem.
Create the Perfect Atmosphere
Nothing screams perfection more than a cosy evening in front of the fire, surrounded by candles, delicious food and loved ones. A winter wedding gives you the opportunity to create warm and cosy ambience and will make everyone feel at home.
Golds and browns paired with soft twinkling lights will create a snug and homely vibe. Draping fairy lights on walls, trees and around the room will help build a personalised and romantic atmosphere, allowing you to take advantage of just how magical a dark winter evening can be.
Themes!
Another incredible aspect that a winter wedding has to offer is its versatility when it comes to themed weddings. The snowy white backdrop is perfect when it comes to that glitter themed wedding. If you've always dreamed of a Harry Potter inspired wedding then picture just how beautiful it will be on a crisp, frosted winter's day.
Princess and Disney themed ceremonies are absolutely breathtaking in the winter months, and they give you the opportunity to replicate that dream winter wedding coat and outfit you've always wanted. Horse drawn carriages and ring-bearing owls will also enhance your fairytale or film themed winter wedding, whilst showing your guests all the natural beauties of winter.
For more information about booking your wedding at Nailcote Hall do not hesitate to contact 024766 466 174.
Best rates when you book direct