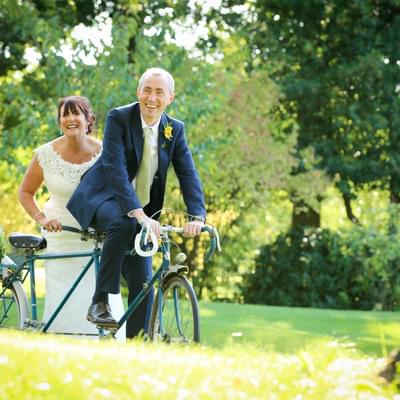 Best rates when you book direct
5 Benefits of an Intimate Wedd…
5 Benefits of an Intimate Wedding
The stress of trying on engagement rings has finally calmed down, you're engaged and you've received hundreds of congratulations and your arm aches from showing everyone that stunning rock on your finger. Now we move on to one of the most exciting (and stressful) times of your life - planning your wedding day!

An enormous grandeur celebration isn't for everyone, and some couples prefer to have a much smaller ceremony. An intimate wedding consists of 100 or less guests and has many advantages. For example, it is fair to say that wedding is not a wedding unless there is a large amount of stress and time that goes into planning it. However, a smaller wedding will not have as much stress when it comes to the planning, and there will not be as much stress in the execution of the day itself because there simply is not as much to worry about. Here are a few more advantages of a smaller wedding;
More Focus on Your Guests
A smaller and intimate ceremony offers a much more unique and personalised experience that is difficult to fabricate with a larger wedding, and there is a stronger focus on your guests' experience. As your guests have been carefully chosen to celebrate the commitment you are making to your spouse, their experience at your ceremony should be a priority, as you've invited them to share an incredibly special time with you.
Unique touches such as personalised Coca-Cola bottles (other brands are also available) can be used instead of name tags for the seating arrangement, and you will both have time to go and talk to everyone and thank them for being part of your special day.
Put Money Towards Your Future
If the idea of spending thousands of pounds on your wedding day is simply something you cannot get your head round, then do not worry! A small and personal ceremony gives you the option to save money that you can put elsewhere. If you and your partner are not about extravagant statements and grand-scale ceremony, then there is no point in trying to please your family and friends.
If a small and modest wedding suits you and your partner's personalities and will make you happier, then that is exactly what you should do. Whether the extra money goes towards a down payment on a house or your honeymoon, having a wedding on a much smaller scale will undoubtedly save you a few pennies.
Invite Those You Actually Want There
An intimate wedding means one thing for sure - the guest list will be a lot smaller. During the planning stages this might ruffle a few feathers (especially when you have to tell your Mum that Susan from the bakery isn't invited) but it does mean that the people who are there on the day are people you genuinely care about.
Although there may be some instances where you have to compromise with your partner when it comes to who's making the cut, you'll also realise just how important your friends and family are, which is never a bad thing. It also means you will not have to tolerate your drunk uncle who has no shame when the Grease Megamix comes on.
Bespoke Venues
A smaller and more intimate affair gives you the opportunity to think outside the box when it comes to choosing the perfect wedding venue. Because there will not be as many guests it also means that you will not be restricted to larger venues.
If you wanted to rent a small hotel or manor house there will be plenty of room for you and your guests. If your dream is to get married on a boat, in the park or at an art gallery then this will also be an option, due to the smaller party that you're bringing with you.
Nailcote Hall Hotel offers the Pavilion Suite, ideal for more intimate weddings of up to 50 guests. With its full length balcony overlooking the Warwickshire countryside, makes for a beautiful backdrop.
Quality over Quantity
As the headcount will be significantly smaller at a more intimate wedding, you can focus on quality rather than quantity. From the decorations to the furniture and table centre-pieces, you'll be able to choose something that reflects the pair of you as a couple.
Say goodbye to the tasteless wedding food that feeds hundreds of people and create a menu with some mouth-watering choices. From heart-warming dishes such curries, casseroles and pies, to lighter bites such as soups and burritos, you can choose to have independent caterers and really look at the quality of the food you are serving. It also saves you a few extra pennies.
For more information about booking your wedding at Nailcote Hall do not hesitate to contact 024766 466 174.
Best rates when you book direct