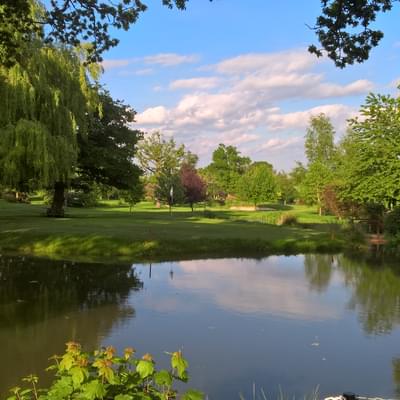 Best rates when you book direct
Nailcote Hall Golf Course
You can 'Pay & Play' at the main hotel reception by contactless card payments. View our green fees here.

Members please show your membership card to the member of staff at the hotel reception.
We look forward to welcoming golfers back to the course.
Nailcote Hall Golf Club and Course
The Cromwell golf course in Warwickshire provides golfers of all abilities a tough test of their short game. Enjoy all the hazards of a full-scale course, including ditches, water, elevated greens and no less than twenty-three bunkers on our nine-hole golf course. The Cromwell golf course is also home to the British Par 3 Championship and Open Par 3 Championship Qualifiers, making it popular with world-class golf players and celebrities alike.
Call to book a tee time - 02476 466 174
Golf course hotel
For the perfect golf getaway, Nailcote Hall is the place to be. Our Warwickshire-based hotel is situated next to our incredible Par 3 golf course, which is a challenge for golfers of any handicap. Not only will you enjoy a fantastic round, but you will also get to experience our beautiful 4-star, 17th-century country house hotel, fine dining and leisure facilities. Enjoy a unique golf break at Nailcote Hall.
Warwickshire golf course
Our golf course and hotel has excellent transport ties with Birmingham City Centre, Solihull and Coventry and is only a ten-minute drive from Birmingham International Airport, Train Station, the NEC and Resorts World.


Frequently asked questions about our golf course
How many holes can I play?
Golfers can choose to play nine or 18 holes at our Cromwell Golf Course. Please be aware that even though our golf course is open, there are safety measures currently in place to ensure the health and wellbeing of everyone during the COVID-19 pandemic. Please refer to the notice at the top of this page, or get in touch if you would like more information.
Do I have to have a membership to play?
While we do have membership options, you do not have to be a member to play. We currently offer green fees to both member and junior guests, societies and anyone staying at our hotel. We do recommend that you book a slot in advance to ensure you are not disappointed.
Where is the Cromwell Golf Course?
The Cromwell Golf Course is ideally situated in Warwickshire, surrounded by stunning countryside, perfect for an enjoyable and relaxing day. Not only can you enjoy the tranquillity our golf course offers, getting to us is a hassle-free experience, thanks to our fantastic transport links. Whether you are travelling to us by car, train or even overseas, our course is easy to access.
Do you offer golf lessons?
Yes, we do! We are proud to have Mark Mouland, a talented golfer who has made over 500 tournament appearances, as one of our tutors.


Best rates when you book direct