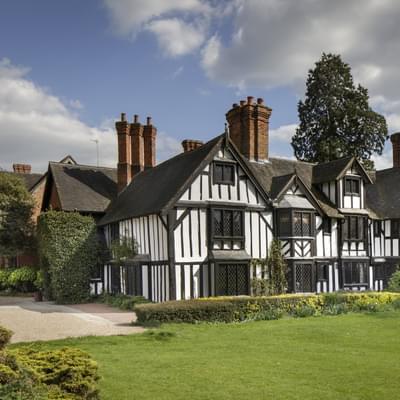 Best rates when you book direct
Knowle Golf Club & Wedding Venue
Found just 12 minutes away from Nailcote Hall, you could not find an easier and prettier day trip destination than Knowle. This large, prosperous village still retains its English village charm, making it the perfect place to experience country life - even if just for a day.
So when you're not planning your wedding, engaging in conference events, or enjoying Nailcote's golf club, why not pop over to Knowle for a few hours of exploring?

Where is Knowle?
Knowle is just six miles West of Nailcote Hall, and 3 miles east-southeast of the larger town of Solihull. Knowle lies within the Arden area of Warwickshire.
Things to Do in Knowle
While there is plenty to do at Nailcote Hall, with events running throughout the year and plenty of amenities, it is still good to get out and experience more of the English countryside. Knowle has a few interesting activities and attractions to tempt any traveller looking for natural beauty. Here are the best Knowle things to do.
Knowle Park
This picturesque park is a lovely place to spend a few hours. Pack a picnic basket and enjoy the expansive green spaces with your significant other or family. If you have kids, they'll love the safe play area and the wildlife, which you can feed. There are also two free-to-use tennis courts for your enjoyment. Just remember to bring your own racquets and balls. And talking about balls, this park is also dog-friendly. So if you're travelling with your furry friend, this is a gorgeous place to take them for a walk.

Knowle Parish Church
This beautiful old church is steeped in history, which is reflected in the stones and spires that adorn it. This is still an active church that has regular services. However, you're still welcome to visit it for its beauty and to walk around the grounds. If you're lucky, you may even be allowed up into the spires to appreciate the bells, which are still rung today.
Knowle Restaurants
You'll likely be back at Nailcote Hall for afternoon tea, but even so, you may get a little peckish while out and about. If you're in search of a good meal, Knowle has some top-notch restaurants to try. Knowle Indian Brasserie is a great spot for Indian cuisine, Loch Fyne Restaurant does excellent seafood, and Kings Arm Knowle is known for its modern British fare. Any and all of these options are sure to put a smile on your face.


Ready to visit Knowle?
Knowle is a pretty English village that exudes charm and British beauty. The park and parish church are both beautiful places to enjoy a picnic with loved ones. Beyond that, you can enjoy strolling along the lanes, shopping at the little boutiques, and sipping coffee at the cute cafes. Whatever you get up to on this day trip, you'll have excellence waiting for you on your return to Nailcote Hall.
Book your hotel room online or contact us directly to discuss availability.

Best rates when you book direct