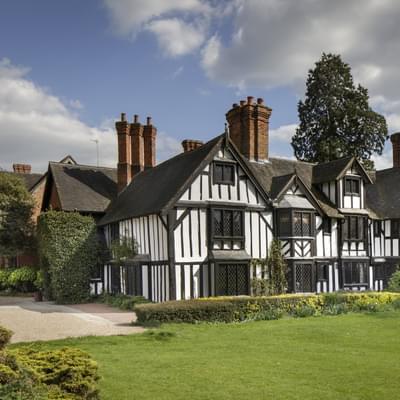 Best rates when you book direct
Birmingham Hotel, Weddings and Golf Breaks
Nailcote Hall is less than 20 miles from the centre of Birmingham, the UK's vibrant second city, making it the perfect location for business and leisure alike. Our luxurious Hotel Rooms and suites offer a haven away from the bustling metropolis, and there are activities available to suit every taste with our Leisure and Country Club and Golf Course facilities. If you're planning a wedding, our fantastic Wedding Venue in Birmingham is sure to offer everything you need for your special day.
Nailcote Hall is only a 30 minute car or taxi journey away from this well connected city, and trains travel directly from New Street to nearby Tile Hill station or Birmingham International, leaving you plenty of time to enjoy what Birmingham has to offer.

Things To Do In Birmingham
For those who are interested in some retail therapy, Birmingham will not disappoint with the renowned Bull Ring Shopping Centre and Mailbox where you can enjoy shopping with your favourite brands as well as new emerging stores and brands.
There is more to Birmingham than just shopping, the city boasts an incredible past and heritage. Besides being an industrial giant and being the home of master craftsmen in Britain, a legacy you can explore with sites such as The Museum of the Jewellery Quarter, Birmingham incredible arts and cultural legacy; being the home to J.R.R Tolkien, Benjamin Zephaniah and other talented writers and artists. Home to the Birmingham Hippodrome, New Alexandria and Rep Theatre, making this a great city to catch a show.
Birmingham: A Foodie's Paradise
Any visiting foodies will not be disappointed as it hosts a great blend and variety of cuisine and a lack of choice, is not going to be a problem. Just a five minute walk from New Street Station, you will find yourself smack in the middle of Chinatown, where you can enjoy a range of traditional and new styles of Chinese and Cantonese delicacies. Exploring the city, you'll find all kinds of treats and wonders as you venture deeper into this wonderful city.
How many other cities could offer a first class dining experience while exploring the city's vast canalways? (Fun fact: Birmingham has more canals than Venice) Besides fine dining, Birmingham has a range of luxury bars and pubs, such as The Botanist on Temple Street, an exciting and unique cocktail bar that gives their own 'Botanist' twist to classic favourites'.
And how could I forget the world famous Cadbury's World, need I say more?
There is so much to discover in Birmingham, all it take is a curious eye and a thirst for some wonderful and new. What are you waiting for?
You can simply book your hotel room online, or get in touch with us directly, if you'd like to find out more about the services Nailcote Hall can offer for you.
Best rates when you book direct